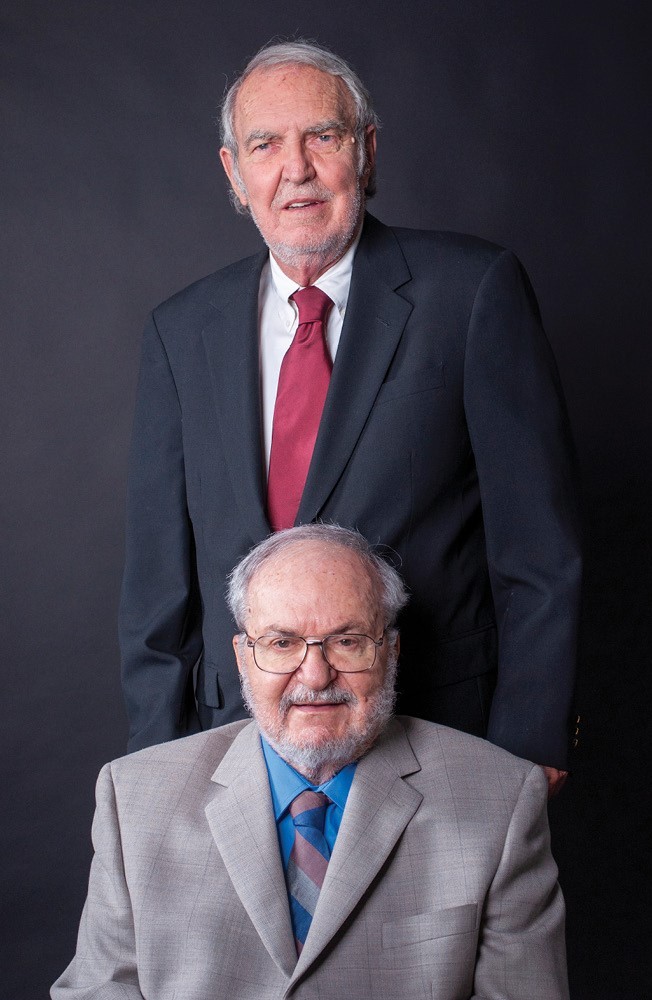 Two grade school friends reunite, after years apart, in the same New Mexico Community
George Skadron and Harold B. Albert are both Jewish Indianapolis natives. They celebrated their bar-mitzvahs at the Ruckle Street Beth-El Zedeck Synagogue under Rabbi William Greenfield and attended high school together at Shortridge High School. Harold and George also lived two doors apart on Park Avenue during the WWII years.
For college, they went their separate ways; Harold studied at Indiana University while George went to rival Purdue University, and they both joined their respective Sigma Alpha Mu fraternity chapters. But it wasn't until 44 years later, that they reunited across the country in Albuquerque, New Mexico, where they helped build the first Jewish Community Center. This year, George and his wife, Vivian, were honored with a Community Service Award in Harold's name.
"It's very humbling," George said. "I have seen the list of people who have won the award in past years and they are spectacular. I am very proud of my accomplishments in our community." 
Both Harold, George and Vivian are no strangers to Jewish Philanthropy, and for those who know Harold or live in Albuquerque, there's no wonder that a Community Service award was named after him.
Harold's Story
Harold and his wife, Carol, who were high school sweethearts, both had jobs lined up in Indianapolis after they graduated college and got married in 1960. His parents then moved to Albuquerque. When he went to visit, he said he thought it was the Garden of Eden; the most beautiful city he has ever seen. The day he arrived in New Mexico, he picked up a newspaper, searched for job openings and found a new career. 
When Harold arrived in Albuquerque, the first thing he did was ask about the local Jewish organizations. He quickly learned that the entire Jewish community was run by one woman in what he described was a Jewish Community Center (JCC) without walls. 
"I was looking for the same type of environment that I grew up with in Indianapolis," Harold said.
Harold said his Indianapolis childhood Rabbi, Rabbi Greenfield, instilled in his congregants a powerful message, which jumpstarted his philanthropic journey.
"As a Jew, we have a responsibility to be involved and to give back," he said.
Harold was only in Albuquerque for a short period of time before he started to push for more Jewish involvement and Jewish activities. Since 1960, Harold has been the president of almost every Jewish organization. In the 1970s, he formed four to five new non-profit Jewish corporations, including Jewish Family Services and the Jewish Federation. He insisted on building a JCC. In the 1980s, he raised money through personal solicitations, grants and a loan from a local bank. He got 200 families to pledge to join the JCC once it was built and started informational meetings and committees. 
George's Story
George graduated college and began working at universities and laboratories as a physicist all across the United States. In 1998, when he was working at the University of Illinois, looking to retire, he was connected to the University of New Mexico that suggested he spend his days leading up to retirement in Albuquerque as an adjunct professor. One of his fraternity brothers was a part of a mainstay family in the New Mexico Jewish community. He insisted that he have dinner with his family and other members of the community to learn more about the area and its Jewish connections. During the dinner, he was told that the best person to talk to was Harold Albert.
"I told them 'I once knew a Harold Albert many years ago from Indianapolis. Is it the same Harold Albert?'" George said.
And it sure was. George obtained Harold's number and after 44 years, the two reunited once again.
That wasn't the only reconnection George would encounter around that same time. He reconnected with a woman named Vivian, whom he knew many years prior from Indianapolis. Both had come out of long marriages. The magic happened quickly, and they were married.
Once in New Mexico, the duo joined Harold's efforts of spearheading the creation of Albuquerque's JCC. George was influential in developing cultural programs for the JCC, including the Jewish Book Fair. Vivian is past executive director of the Jewish Federation of Fort Wayne, and once in New Mexico, became instrumental in building the Jewish Community Foundation of New Mexico. Both George and Vivian believed it was important to be a part of the Jewish community.
"It's my heritage," George said. "I am a Holocaust refugee and I came here as a very small child. My parents were resettled in Indianapolis and it's important to contribute to the continuity of our people and the only way we can do that besides through the synagogues is through community endeavors."
At the University of New Mexico, George and Vivian founded and funded a semi-annual lecture series on contemporary Jewish studies. The series brings Jewish lecturers to the college to discuss Jewish issues and is attended by several hundred professors, students, the Jewish community and the community at-large.
The Harold B. Albert Community Service Award
In 2000, Albuquerque's JCC was finally opened to the public. It is 55,000 square feet and is currently at membership capacity. Harold was named the first president and at the opening ceremony, a permanent community service award was established in Harold's name. This annual award was founded to recognize those whose service to the Jewish community reflects the highest integrity, love for one's fellow man and commitment to the ideals of Jewish Life. Harold was also the first recipient of the award. Each year since, very deserving individuals were given the award, and in 2020, the Skadron's were honored with the annual award at a virtual dinner on Oct. 14. The event had more than 500 participants, and of course, Harold was the one to present them with the award.
"George and Vivian's outstanding service has not only been in the Jewish community but for the community at-large," Harold said. "I was honored and thrilled that they were chosen as this year's honorees."
Both George and Harold are now retired and remain close friends. They have a weekly chess game, which George taught Harold how to play many years ago.